<< Back to Blog Posts
---
New course! Preventing the Bystander Effect
May 25, 2023
We've added a new training video to our collection! "Understanding and Preventing the Bystander Effect" is now available for distribution in our course library. We are looking forward to supporting workplaces to become safer and more welcoming.
Why it is important that people understand the bystander effect: 
Many individuals spend the majority of their time at work. Therefore, the safety and quality of the work environment is crucial to our overall well-being.
If a person enjoys going to work and feels safe and valued they are more productive, express opinions and ideas more freely, make fewer mistakes, are healthier, and are more optimistic.

Every member of a team has the ability to prevent the bystander effect and make their workplaces more inclusive.
Our new course is interactive, with some features including: 
Created in an animated, explainer-style format that employees love to watch.

Light, easy-to-follow script and imaging that promotes retention.

Activities in between segments allow users to critically think about their own work environment and personal responsibility in preventing the bystander effect.

Quizzes and activities that allow managers to track both completion and comprehension.
This course is thought-provoking and perfect for valuable conversation starters between team members.
"I swore never to be silent whenever and wherever human beings endure suffering and humiliation. We must always take sides. Neutrality helps the oppressor, never the victim. Silence encourages the tormentor, never the tormented."
Elie Wiesel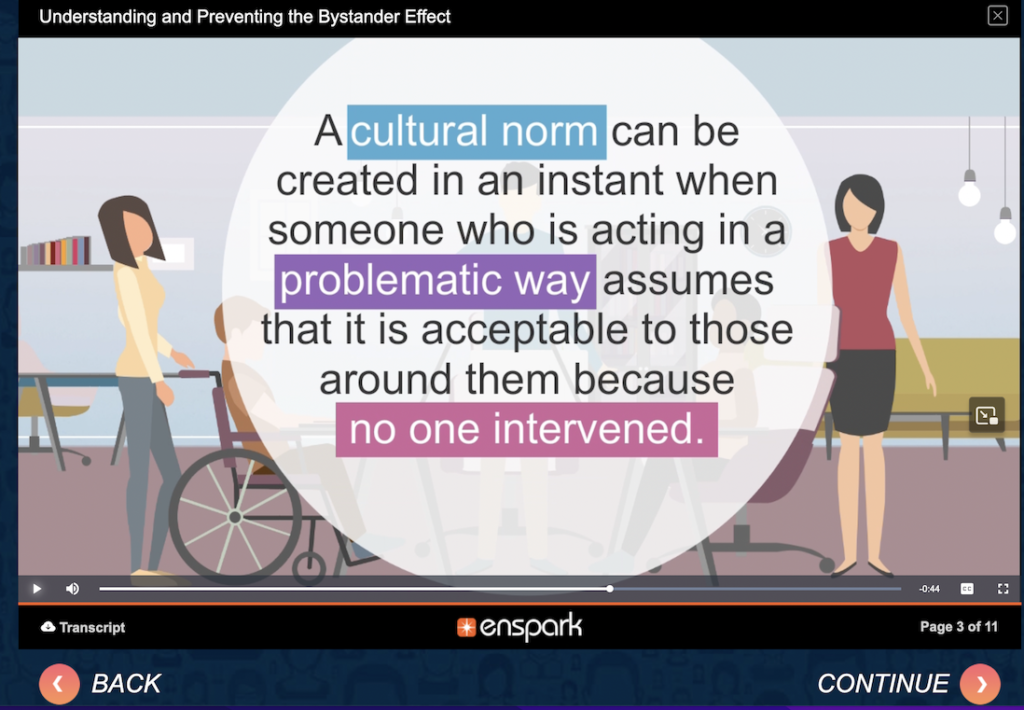 Check out some of our other courses on workplace inclusion:
Five Strategies for Creating an Inclusive Work Environment
Gender Identity: Understanding Gender-Neutral Restrooms in the Workplace
---
<< Back to Blog Posts